MSc Optoelectronics and Photonics
The interplay between optics and electronics is of both fundamental scientific interest and the foundation of a broad range of modern technology. Remarkable progress has been made in recent years combining techniques from areas as diverse as nanophotonics, semiconductor physics and even quantum optics. Learning how to bring fundamental principles of optoelectronic interaction out of the laboratory and engineer them into workable devices is a key skillset to drive this field forward.
Our two-year Masters course in Optoelectronics and Photonics places students squarely at the intersection of modern physics, precision engineering and state-of-the-art technology. Students will develop a broad, technical skillset, as well as rigorous understanding of the underlying concepts. On completion, successful students will be ideally suited to a future academic or industrial career in this exciting and fast-moving field.
We offer:
A broad range of targeted interdisciplinary courses, taught in English
Masters projects in internationally active research groups
Smooth progression towards PhD study in Germany and beyond
Career perspectives in existing and emerging industries
A gateway to European academic and industrial networks
Further Questions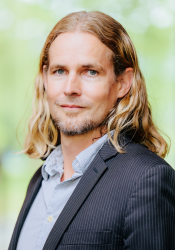 Department of Electrical Engineering and Information Technology

Coordinator MSc Optoelectronics&Photonics