The general master's program in physics offers an in-depth insight into scientific and technical knowledge and work. At the end of the program, you will be well equipped for research and industry! The master's program also impresses with its variability, where you can choose many courses according to your own interests.
The study program consists of a first section, in which you take part in lectures (specialist in-depth phase), and a second section, which introduces you to independent research activities in the field of physics within the framework of a comprehensive master's thesis (research phase). You will work on scientific projects in the various working groups and experience cutting-edge research first-hand!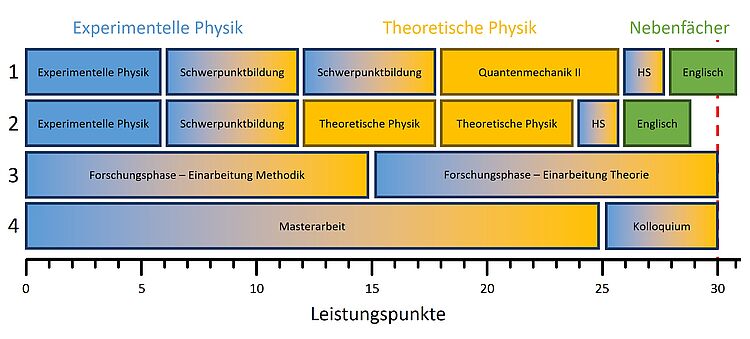 Quantum Photonic Technologies
Photonic quantum technologies are one of the most promising subfields of physics and electrical engineering/computer science. With the Quantum Photonic Technologies concentration, you will be trained specifically in this area without losing sight of general physics. The concentration is based on the general physics master's program, but includes a specially tailored selection of elective courses that specifically prepare you for research and development of photonic quantum systems.
Specifically, you must take the lecture "Quantum Optics" in the experimental physics area, the lecture "Quantum Information Theory" in the theoretical physics area, and "Introduction to Quantum Computing" as a lecture in the emphasis area. In addition, one of the following courses must be chosen in the area of specialization: "Quantum Electronics", "Integrated Optics & Photonics" or "Experimental Quantum Communication & Information".